売市 幹大
賣市幹大 Uruichi Mikio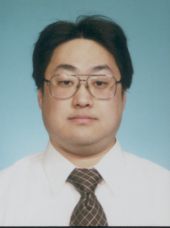 学位:博士(理学)
E-mail: uruichi_at_ims.ac.jp (_at_ はアットマークに変換してください)
業務内容:
合成実験、測定機器の操作。
ナノプラットフォームの支援要素の担当としてFT赤外分光および顕微ラマン分光装置の対応を行っています。
略歴:
1991年 東北大学理学部化学科卒業
1993年 東北大学大学院理学研究科化学専攻修士課程終了
1993年 分子科学研究所 技官
2000年 総合研究大学院大学学位取得、博士(理学)(論文博士)
論文:
• Optical properties and metal-insulator transitions in organic metals (BEDT-ATD)2X(solvent) (X=PF6, AsF6, BF4; solvent=THF, DHF, DO) [BEDT-ATD= 4,11-bis(4',5'-ethylenedithio-1',3'-dithiol-2'-ylidene)-4,11-dihydroanthra[2,3-c][1,2,5] thiadiazole], M. Uruichi, K. Yakushi and Y. Yamashita, J. Mater. Chem., 10, 2716 (2000).
• Structural phase transition in quasi-one-dimensional conductors (BDTFP)2X(PhCl)0.5 (X=PF6 and AsF6) [BDTFP=5,7-bis(1,3-dithiol-2-ylidene)-5,7-dihydrofuro[3,4-b] pyrazine; PhCl = chlorobenzene], M. Uruichi, K. Yakushi, T. Shirahata, K. Takahashi, T. Mori and T. Nakamura, J. Mater. Chem., 12, 2696 (2002).
• Infrared and Raman studies of the charge-ordering phase transition at ~170 K in the quarter-filled organic conductor, b''-(ET)(TCNQ), M. Uruichi, K. Yakushi, H. Yamamoto and R. Kato, J. Phys. Soc. Jpn., 75, 074720 (2006).
• Two-phase coexistence in the monovalent-to-divalent phase transition of dineopentylbiferrocene-fluorotetracyanoquinodimethane [npBifc-(F1TCNQ)3)], charge-transfer salt, M. Uruichi, Y. Yue, K. Yakushi and T. Mochida, J. Phys. Soc. Jpn., 76, 124707 (2007).